Sony Xperia XA Ultra 3gb 16gb On EMI
Product Description
The Xperia XA Ultra's front camera gives DSLR cameras a run for their money. A megapixel count of 16 and an Exmor RS sensor ensure that all the selfies you click with your family during vacations are crystal clear. A 21.5-MP rear camera gives you the opportunity to make your aspirations of becoming a professional photographer a reality. Thanks to features like Optical Image Stabilization, Hybrid Autofocus and Gesture Shutter, the perfect snapshot is just a click away.
Comfortable to Hold
You can maintain a comfortable and firm grip on this smartphone, thanks to its narrow make.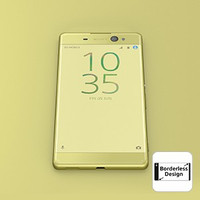 Borderless Design
There are no annoyingly thick borders to disturb your viewing experience on this smartphone. The flicks you watch on it will be much more compelling as the bezels are virtually non-existent.
Unified Body Colour
The entire body of the Xperia XA Ultra sports a solid colour that gives it a classy look. You can also change the wallpaper to suit the colour of the body for an added elegance.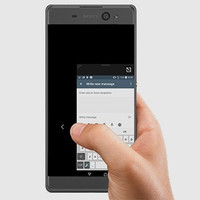 Easy Control With Mini-screen Mode
You can minimize the screen's size with a single swipe. Then, use your thumb to effortlessly switch between screens.
15.24-cm Full HD Screen
The Xperia XA Ultra's curved display makes this smartphone comfortable to hold in one hand. Not only will your favourite cinematic characters look larger on this smartphone's 15.2-cm display, they'll look more defined too as it reproduces images at a crystal-clear resolution of 1920×1080 pixels. Sony's Mobile BRAVIA Engine 2 technology boasts a contrast enhancement algorithm which brighten up dimly lit scenes. While an advanced sharpness filter makes images more detailed, Sony's Super-vivid mode makes images more luscious by enhancing colour brightness and saturation.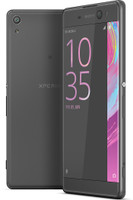 Loud & Clear Sound
Sony's Loud and Clear technology does exactly what it says: it makes sounds more audible and true to their original quality.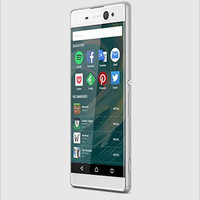 Enjoy Social Media On a Big Screen
Whenever you open a social networking app like Facebook or a web-mapping service like Google Maps, you can view all the on-screen details clearly, thanks to this smartphone's large screen.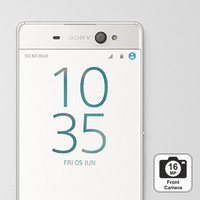 16-MP Exmor RS Front Camera
The Xperia XA Ultra's 16-MP front camera is just as capable as a standard DSLR camera when it comes to image quality. Thanks to an Exmor RS sensor, you can take rich, well-defined selfies when you're chilling with your friends at a cafe.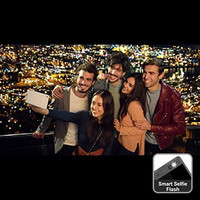 Smart Selfie Flash For Low Light
You can take clear selfies even if you're in a pub with dingy lighting as this smartphone's front camera is complemented by an LED flash.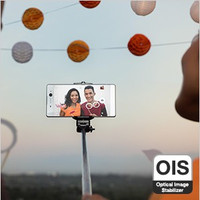 Optical Image Stabilization
Do your hands get shaky whenever you hold up your phone to take selfies? With the Xperia XA Ultra, the Optical Image Stabilization feature has you covered. It ensures that your selfies are blur-free even if your hand shakes a bit before clicks.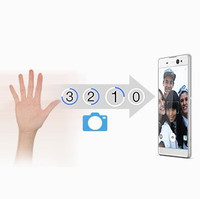 Gesture Shutter
Make a simple hand gesture to prompt this smartphone's camera into clicking pictures automatically.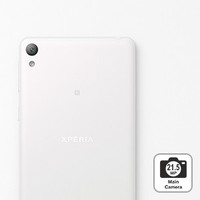 Best 21.5-MP Exmor RS Main Camera
Expand your portfolio as a photographer with this smartphone's 21.5-MP rear camera. It performs excellently in low-light conditions and it's superior auto-mode makes for impeccable, blur-free images. Now, you can capture professional-grade photos with your smartphone.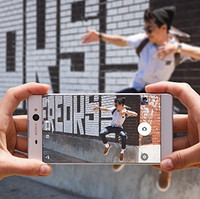 Quick Launch & Capture
It takes less than a second to launch this smartphone's rear camera into action even when the Xperia XA Ultra is locked. You just have to press the dedicated camera button to kick things off.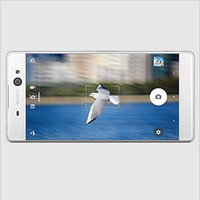 Hybrid Autofocus
You can take blur-free images of your friend playing football or a bird that's flying by swiftly, thanks to Sony's Hybrid Autofocus technology. You can focus on your subject with a simple tap on the screen.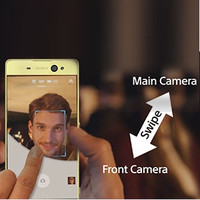 Swipe to Change Camera
Switch between the rear and the front camera and vice-versa with a single swipe.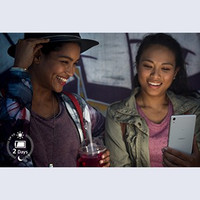 Up to 2 Days Battery Life
Leaving your charger behind before heading out on a trip is no longer a cause for concern. This smartphone's impressive battery life lasts for up to two days, giving you ample time to stay connected with the world and your favourite entertainment.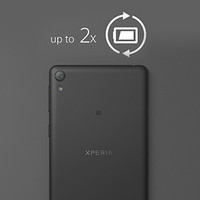 Qnovo Adaptive Charging
The long-lasting battery life can be attributed to Qnovo's adaptive charge technology which almost doubles the amount of power this phone can discharge with a single charge.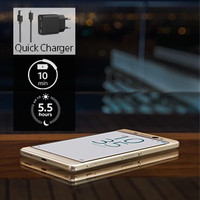 Quick Charge & Stamina Mode
Charge this smartphone for 10 minutes to get up to 5.5 hours of usage time. Turn on Battery Stamina mode to conserve power more efficiently.