VU 40 inch H40K311 Full HD Smart LED TV On Finance
Description
Youtube, Netflix, Cable TV – whatever your medium for entertainment may be, this 102 cm (40) television from Vu will let you enjoy your favorite shows with great clarity. It comes with the DTS Sound Technology to support the videos with pleasing audio quality. That's not all, its remote control comes with dedicated buttons for Youtube and Netflix, thereby letting you access your shows faster.
Product Description
Redefine the way you watch television as you bring home this 102 cm (40) Full HD Smart TV from Vu. Its glossy display with A+ Grade Panel and Smooth Motion Rate lets you catch up on your favorite shows clearly. What's more? The remote has dedicated keys that let you access your favorite apps such as Netflix and Youtube quickly.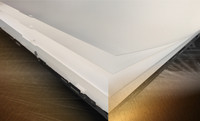 A+ Grade Panel (Every Picture in Detail)
This television's A+ Grade Pure Prism Panel maintains the integrity of every picture that's on screen with the right level of detail.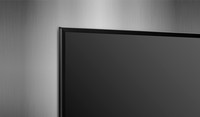 Piano Black Design (Pulsating Luminosity)
The elegance that is associated with a piano embodies your television screen as well. This television's Plastic Piano Gloss of Black brings about a pulsating luminosity that exudes class.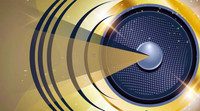 DTS Sound Technology (Listen to All the Action)
Enhance your viewing experience with enlivening audio thanks to the presence of DTS Sound Technology.
PremiumSmart Operating System (Smart Interaction)
This television is powered by the PremiumSmart Operating System that paves the way for a seamless performance with quick app launches, faster boot speed, and an easy-to-use interface.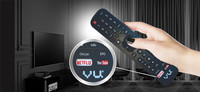 Netflix and Youtube Remote (Easy Access)
Your two favorite portals for entertainment (Netflix and Youtube) can be accessed easily, as the remote control comes with dedicated buttons for the apps. It also supports DIAL (Discovery and Launch) from Youtube and Netflix. You can push the content that's being played on your smartphone to the television screen and continue to use your smartphone for other purposes.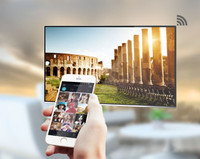 Screen Mirroring from Your Smartphone (Better Viewing Experience)
You can share the content that's being played on your smartphone to the television via WiFi or LAN with the help of a DLNA Network or AnyView Cast.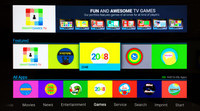 Game Center (Your Entertainment Portal)
The Quad-core CPU Game Center is the perfect way to beat boredom as it houses 30 games with HD resolution that will keep you hooked for hours.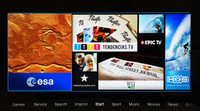 App Store (Download Applications)
From music to social networking, you can find an application of your choice that is optimized for this television on the App Store.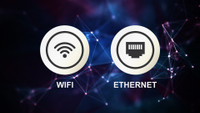 WiFi and Ethernet Connectivity (Smart Access)
You can connect this television to your WiFi router or connect the LAN cable to the Ethernet port to gain access to a host of different applications.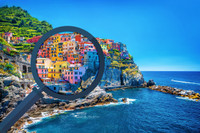 1:1 Pixel Mapping (Increased Sharpness and Accuracy)
It lets you connect any gadget to this television and automatically match the resolution to the native resolution of the gadget. This way, images and videos that are displayed on-screen will appear more sharp and accurate.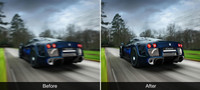 Smooth Motion Rate (Smoother Transitions)
It enables the smoother transition of images on the screen, so that you get to watch your favorite videos without any lag.