Samsung Galaxy A8 32gb On EMI Without Credit Card
Product Description
Capture crystal-clear images with the A8 and upload them on Instagram or FB to display your flair for photography to the world. Don't ever get bored; watch popular YouTube videos in full HD or play visually enchanting games to keep yourself entertained always.

Full Metal Body
The A8's ultra-slim design ensures that your pockets don't feel bulky when you walk. The full-metal body makes this smartphone durable and easy to grip.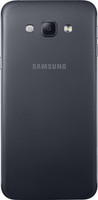 Brighter, Clearer Images
Use the 16-MP rear camera to cultivate the photographer in you by capturing mesmerizing, detailed pictures. Thanks to the 5-MP front camera, you can capture great selfies. The cameras have an aperture of f/1.9, which when coupled with the HDR function, ensures that the images you capture are clear and bright even in low light conditions.
Long-lasting Battery
Thanks to a battery capacity of 3050 mAh, you can listen to music, watch movies, play games or browse the Internet for many hours.

Hybrid SIM Slot
You can use two different nano SIMs with this smartphone to separate your personal life from your professional life. One of the two SIM slots is a hybrid SIM slot in which you can insert a microSD card to expand the A8's memory from 32 GB to 128 GB.
Quick Camera Launch
The Galaxy A8's camera takes just about 0.9 seconds to launch (1.7 seconds when it's in sleep mode). Press the home button twice to access the camera function in no time.
Fun Selfie Options
Thanks to the 'Wide Selfie' function, this smartphone's front camera covers a 120° view. So, all your friends will be in the frame when you take selfies.
Enhanced Security
Keep your personal data as it should be – private. The A8's finger print scanner ensures that only you can access the contents of this smartphone, preventing data theft.
Smart Manager
The Smart Manager app keeps you informed about essential data on your storage space, battery usage, anti-virus and RAM. Use the Quick Check feature to optimize your smartphone, quickly.
Performance
The A8 has a octa-core processor that can hit clock speeds of up to 1.8 GHz (1.3 GHz when its processing less demanding tasks). This, combined with 2 GB of RAM, adds up to an excellent performance. Now, you can run many applications at the same time without facing glitches.
Display
You can watch fantasy films in brilliant detail on this smartphone's 14.43-cm, super AMOLED, full HD display at resolution of
1920×1080 pixels.
Operating System
You can access notifications right from your lock screen on this smartphone as it comes with the Android Lollipop (v5.1.1) OS. If you get a notification when you're using an app, it will be displayed at the top of the screen. This OS also offers many other new features in contrast to previous versions.