Samsung 32 inch TV Finance-ua32n4310
Buy Samsung 32 inch TV Finance-ua32n4310
Description
With this Samsung Smart TV, you can now combine both work and fun. Its ability to convert to a computer makes it highly efficient. You can work when you want to, and once you are bored, you can switch to unlimited entertainment. It can also be used as a virtual music system. You can also share content from your phone to this TV and enjoy videos and photos with your family. Besides these mentioned features, it also comes with a varied range of other user-friendly options that justify its smart tag.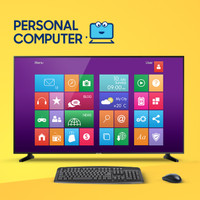 Personal Computer
This Samsung TV can be turned to a full-fledged computer whenever required. So, besides using it for entertainment, you can also use it for your work. You can mirror your laptop, work from the cloud, and also access your work computer remotely. This makes it versatile and highly efficient.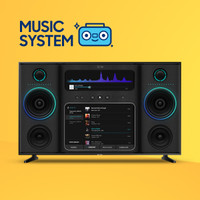 Music System
Now, listen to music in high-quality audio without missing any beat or detail, as you can turn this TV into a virtual music system. This virtual music system also appears in three different colour tones, thereby letting you enjoy your favourite songs with a vibrant visual experience.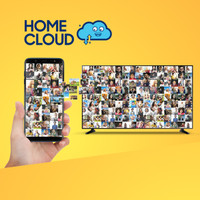 Home Cloud
If the storage space on your phone is getting occupied by photos, documents, etc., you can transfer them to this TV. The Home Cloud feature lets you save files safely and wirelessly.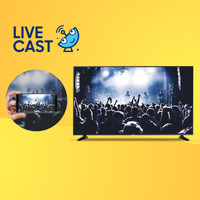 Live Cast
It comes with Live Cast through which you can broadcast or live stream what you like to a broader audience.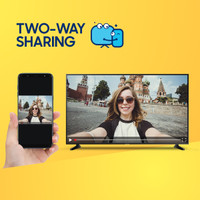 Two-way Sharing
You can play videos and songs from your phone to this Samsung Smart TV and vice versa. This way, you can maximize your fun by watching and listening to a wide array of entertainment anywhere and anytime.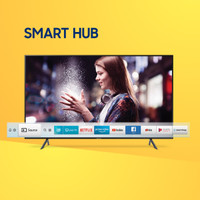 Smart Hub
You can get single access to live TV and apps via the Smart Hub feature. Also, if you are not sure about starting a new series or a movie to watch, you can check its thumbnail first and then take the plunge. It also lets you browse content while watching TV.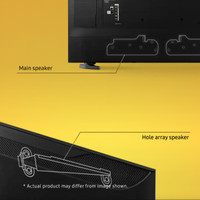 Immersive Sound
It delivers an immersive sound that enhances your experience while watching videos or listening to your favourite playlist.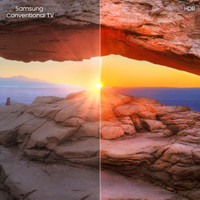 See More Details
If you are watching any series, movie, or any HDR content with dark cinematography, you can enjoy the details with full clarity. It displays crisp, clear, vibrant images to accentuate your viewing experience.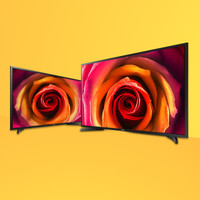 Ultra Clean View
This smart TV also comes with Ultra Clean View, which delivers high-quality images without any blurriness or distortion.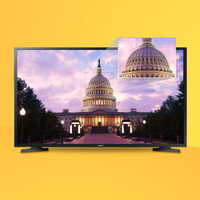 Vibrant Colour
The natural colours of the content displayed is shown in full vividness. So, you can watch your favourite shows without losing the feel and essence.
Micro Dimming Pro
The Micro Dimming Pro feature lets you experience shadow detail and colour. It divides the screen into zones and examines each zone for pure whites and deep blacks.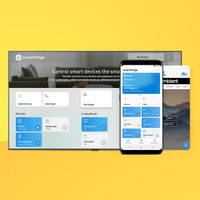 SmartThings App
It comes with a SmartThings app. This app offers features such as Mirror Screen, and Remote Control.