LG 43 inch 43LJ619V Full HD Smart LED TV On EMI
Product Description
Game of Thrones, English Premier League, or Amazon Prime Specials, watch what you love and explore the world of unlimited entertainment with this LG 108 cm (43 inch) full HD LED smart TV. This smart home appliance comes with an IPS panel, LG's Color Master Engine technology, and a 35 W Powerful Sound (with Woofer) for an impressive home entertainment experience.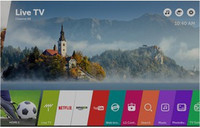 WebOS for More Entertainment
Watch your favorite and most popular shows, movies, and more from different service providers using the easy webOS launcher bar.

IPS Panel for Clear Visuals
This entertainment appliance offers life-like color along with a wide viewing angle, thanks to the IPS panel of this LED TV. It also provides blur-free, clear visuals on a stable, damage-resistant screen.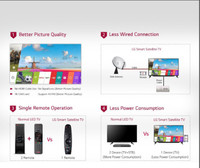 Smart Satellite TV
The Smart Satellite TV provides an enhanced picture quality that supports 4K and HD with no signal loss. It contains less wired connections and features a single-remote operation, while consuming less power.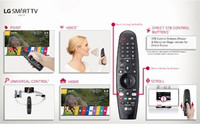 Magic Remote
The magic remote has been designed to make your life easy with multiple useful features and shortcuts, such as the direct hot key for Netflix and a direct hot key for Amazon. It is a universal control and has a voice command feature.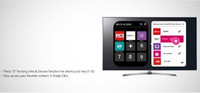 Single Click Access
Using the Single Click Access (Quick Access) you can add your favorite apps, channels, and create shortcuts. This feature is for easy and fast access to your regularly watched favorite content.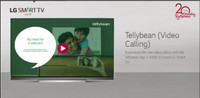 Tellybean (Video Calling)
This entertainment appliance comes with the Tellybean app to make life-size video calls to your near and dear ones.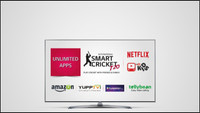 LG Content Store
This store has a variety of content to watch on this smart TV. You can conveniently watch updated videos on demand (VODs) or apps, thanks to this LG store.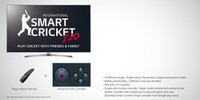 International SMART CRICKET T20
This TV has a cricket game that lets you choose a team and play with friends or against the TV for a thrilling experience.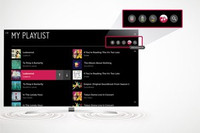 Music Player
Enjoy listening to your favorite music on the TV speakers using the music player. You can play music while using other apps or even when the TV screen is switched off. This music player also supports lyrics embedded song files.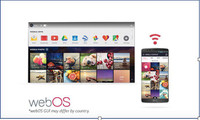 Magic Mobile Connection
You can view your smartphone content on this TV using the Magic Mobile Connection feature. Also, by using a Wi-Fi connection, you can enjoy music and video apps on the TV screen.
Miracast
The Wi-Fi Alliance certified, Miracast, feature is for easy and fast connection between the TV, smartphones, and tablets without any wires. You can effortlessly transfer and share digital contents from different devices on the TV screen.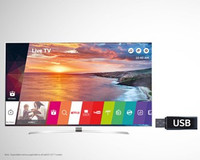 Expandable Memory
Now, no need to worry about using the built-in memory as you can plug USB to enjoy unlimited content. However, the built-in memory has to be used before the external memory.
WebOS Notify
Receive webOS-related notification while watching TV. You can also get notifications for incoming calls, SMS messages, emails, social network and messengers along with other notifications, such as software updates and missed calls on the top right corner of the TV screen.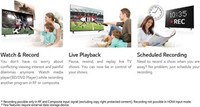 Time Machine Ready
Do not miss your favorite shows by recording them using this feature. You can rewind, pause, and re-watch your favorite episodes with this Time Machine Ready feature.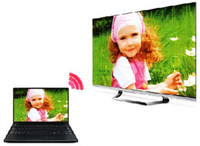 Intel's WiDi
Intel's WiDi (wireless display) technology allows easy and fast connection between this TV and your laptop without any network or cables.
35 W Powerful Sound (with Woofer)
Experience powerful audio with the 35 W Powerful Sound along with Dolby digital plus and DTS support.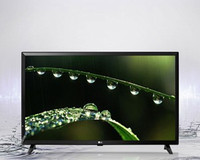 LG's Virtual Surround Sound
It provides an expansive field of sound to enhance your aural experience.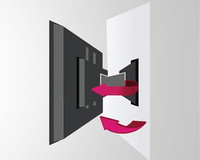 Flexi Mount to Adjust TV Viewing Angle
This TV comes with flexible wall mount brackets to rotate the TV according to your viewing angle.
Color Master Engine
Watch vibrant colors with increased intensity and depth with this Color Master Engine technology. It also adjusts color saturation, hue, and luminance for an improved viewing experience.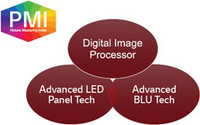 PMI 1000
Picture Mastering Index (PMI) is the standard of Digital Image Processor, Advanced LED Panel Technology, and Advanced BLU Technology. You can enjoy watching high-quality visuals on this LG TV.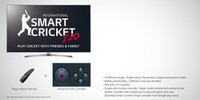 International Smart Cricket T20
Play smart cricket on the LG webOS TV. You can pick your team and play with your friends or against TV.