LG 32 inch HD Ready LED 32LK558BPTF TV On Finance
Description
Enjoy stunning visuals and immersive audio on this LG TV. This TV features an IPS display that offers lifelike colors and contrast from almost all angles. You can also conveniently access the content you love using the Direct Hot Keys.
Product Description
This LG TV is the perfect catalyst to bring life to your living room. Equipped with a 35 W built-in woofer, this TV delivers stunning audio. While the IPS display elevates your viewing experience, the Direct Hot Keys let you conveniently access the content you like.

IPS Display
The IPS display offers life-like colors that are closest to nature and most comfortable for your eyes. The wide-viewing angles deliver consistent colors and and contrast from all angles. This TV's panel is free from color wash and contrast loss. Even during fast motion display this TV delivers blur-free and crystal-clear pictures.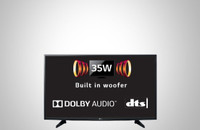 35 W Built-in Woofer
The 35 W powerful sound will take your audio experience to a whole new level, thanks to Dolby Digital Plus and DTS Support.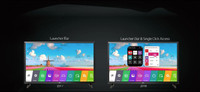 Quick Access
Accessing your content was never this easy. Conveniently access all content and connections using the Direct Hot Keys.
Built-in and Upgradable Games
Enjoy interesting built-in games without any charges, thanks to the LG GAME TV feature.
All Round Protection Plus
Featuring a Robust IPS Panel, Lightning Protection, Summer Heat Protection, Humidity Protection and Dust Protection, this TV is durable and sturdy. Its Robust IPS Panel is resistant to high temperature and pressure. Equipped with a 500 V Capacitor, Fuse, Varistor, Thermistor and Isolator, this TV is protected against unexpected lightning surges. Are you worried that dust accumulation might damage your TV? Drop all your worries as this TV comes with uniquely designed back cover vents that resist the entry of dust inside the TV, thereby reducing the possibility of any potential damage. Also, this TV works stably without a stabilizer.

Live Zoom
Make use of the Live Zoom feature to select an area on the screen to see image details.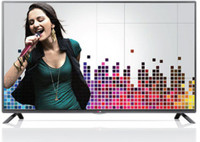 Bollywood Mode
Enjoy your favourite Bollywood numbers in stunning clarity. With sound pouring from all directions, this mode will offer you a superior three-dimensional sound experience. This TV automatically offers you the sound mode according to the genre. So, you don't have to change any settings, this TV will do it for you.

Cricket Mode
Are you a cricket fan? Enjoy cricket matches with immersive audio and enhanced picture quality using the Cricket Mode.
Audio Out
Enjoy seamless and hassle-free connectivity to external home theatres or active speakers. The various Audio Out options include Headphone Out, RCA Analog Out, Digital Optical Audio Out.

Flexi Mount
Rotate this TV as per your viewing-angle requirement using the flexible wall mount brackets.