Asus Zenfone 3 3gb 32gb On EMI
Product Description
Pure elegance at first glance, ASUS' ZenFone 3 is a modern, technological marvel that'll help you make the most of entertainment. A brilliant, 16-MP camera for your interests in photography, a powerful processor for seamless multitasking and superior audio technology for a sublime musical experience – the ZenFone 3 offers all this and more.
Exquisite Design
The 2.5 screen glass of this smartphone sports rounded edges, making the ZenFone 3 comfortable to hold.

Fine Craftsmanship
A masterful work of modern technology, the ZoneFone 3 is 7.69-mm thin and it features a 0.18-mm, diamond-cut bevel, so it fits snugly in the hand. Contoured Corning Gorilla Glass makes this smartphone resistant enough to endure a certain degree of damage too.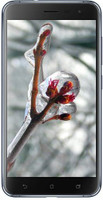 Wide and Bright Display
The colour and contrast of the videos you watch on this smartphone won't be compromised even if you're looking at the large, 13.2-cm screen from an extreme angle, thanks to super IPS+ technology. It produces images at a resolution of 1920×1080 pixels, so the characters and backgrounds of the videos you watch will be well-defined in full HD quality. You can set the display to emit a brightness level of up to 600 nits to ensure that videos are clear even when you're watching them in brightly lit environments. A 2.1-mm-thin bezel and a screen-to-body ratio of 77.3% are among other features that make the ZenFone 3 a lot less bulky.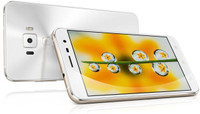 Capture Reality, Fast and Steady
Mesmerize your friends on Instagram with your photography skills. Use the 16-MP rear camera, which is complemented by ASUS' PixelMaster 3.0 technology, to capture rich, crystal-clear images of the interesting sights that pass you by every day. A large, f/2.0 aperture lens adds more clarity to your clicks. Thanks to ASUS' TriTech autofocus technology, the camera can automatically focus on a subject in a matter of just 0.03 seconds, making it perfect for when you're trying to take pictures of fast-moving objects. A colour-correction sensor makes for naturally vibrant photos. The optical and electronic image stabilization functions ensure that your snaps and videos are free of blurring.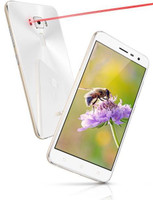 TriTech AF
TriTech autofocus technology combines three focusing technologies (laser, phase detection and continuous autofocus) to focus on subjects in just 0.03 seconds – that's almost 10 times quicker than the time people take to blink.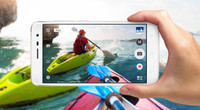 Steadily Shot, Shake-free Photos and Videos
When you're at a concert taking photos, people are bound to bump into you. Though, this doesn't have to affect the clarity of your images, thanks to this phone's four-axis optical image stabilizer (OIS). It ensures that your hand movements don't distort the clarity of the photos you take. A three-axis electronic image stabilizer (EIS) does the same for the videos you shoot.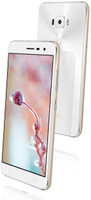 Photos Like the Actual Scene
Deep trench isolation technology prevents photons of light from leaking between pixels on the sensor, adding greater clarity to images. This phone's colour-correction sensor identifies unusually lit subjects in photos and makes them look more natural. The 4x Super Resolution feature makes for highly detailed images. You can also use the Real-time HDR feature for beautifully highlighted, dramatic photos.

Full Speed On Every Front
The ZenFone 3 performs just as beautifully as it looks. A 64-bit, 2.0-GHz, Snapdragon 625, octa-core processor and 4 GB of RAM make the ZenFone 3 masterful when it comes to performance. Even if you're running multiple applications at the same time and are switching between them regularly, it's highly unlikely that you'll experience lag. An Adreno 506 GPU further adds to the impressiveness of this smartphone, giving it the power to run graphics-rich games seamlessly. 14nm fin field effect transistors reduce power consumption by up to 35%, making this smartphone highly efficient at conserving energy. Add 4G LTE support to the package and you have a smartphone that offers download speeds of up 300 Mbps even when you're travelling. Not only can you use the USB Type-C port to transfer data with other smart devices in no time, you can also quickly charge the ZenFone 3 with it.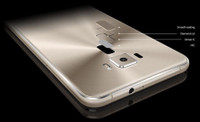 Touch Security
You can effortlessly reach for this smartphone's fingerprint sensor as it has been ergonomically placed behind the phone. It's been positioned to suit the way people hold a phone. The sensor can recognize up to 5 different fingerprints. And, no matter how you place your finger on the sensor, it'll recognize it, thanks to the 360-degree recognition feature.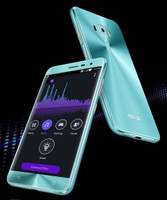 SonicMaster
The five-magnet speaker construction, expansive sound chamber and metal voice coil of this smartphone make for a truly immersive audio experience. High-Res Audio certification means every time you put on your headphones or earbuds and listen to music from this smartphone, you'll hear sounds in 24-bit/192kHz quality at the least, which is almost four times better than CD quality.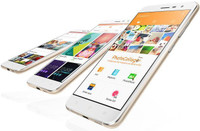 ZenUI 3.0
The Android Marshmallow-based ZenUI 3.0 makes browsing through this smartphone's content a pleasurable activity. The UI displays weather updates with real-time animations, it features parallax scrolling and it also features a stylish clock widget. These are but some of the features of this UI that make interacting with this smartphone a smooth experience.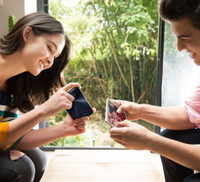 Game Genie
Ever wanted to broadcast a mobile game you're playing so the world can see your skills as a gamer? The ZenUI 3.0 makes it possible. You can use its Game Genie function to broadcast your games on Twitch or YouTube in real-time. You can also search for tips as you play by summoning a pop-up search window. Additionally, you can use the booster feature to speed up the gaming action too.